Astraea
reliquit
"Astraea has left the earth."
The phrase is from Ovid's Metamorphoses, but Shakespeare gives it new meaning when he has the grieving Titus Andronicus rouse his kinsmen to join him in some madcap archery, shooting arrows into the emperor's court, each one tipped with a supplication to the gods.
Titus, if you recall, had very good reason for his madness, whether feigned or real: the emperor's step-sons had raped and horribly disfigured his daughter Lavinia, and he had seen the heads of two of his sons tumbled at his feet, knowing full well that they'd been executed on false charges and through a heartless deceit that had cost him his own hand.  "We may go pipe for justice," he tells his gathered family, including his brother Marcus, grandson Lucius, and several assembled nephews.
As Jonathan Bate notes in his edition of the play, "Queen Elizabeth was frequently mythologized as Astraea."
Had John de Vere lived to see Titus Andronicus played onstage, he might well have appreciated the old warrior's fantastical, near-treasonous shenanigans with bow and arrow.  Back in Great Harry's time, his brother-in-law, Henry Howard, earl of Surrey, had cooled his heels in the Fleet prison after a shooting spree with "stone bows" through the streets of London.  While incarcerated, he wrote an indignant poem mocking the citizens of London and those who had detained him.
The "emperor" – as Henry VIII had styled himself – was not pleased.  Two years later, on Dec. 12, 1546, Surrey and his father, Thomas, 3rd duke of Norfolk, were arrested on specious charges, and soon condemned for treason.  Surrey was beheaded five weeks later, on January 19.  Only the death of Henry VIII had saved Norfolk from the same fate.  Earl John's sister Frances was eight months pregnant when her husband was executed.  Since the records are silent as to their reactions, we can only imagine what John and Frances thought about the king's "justice".
Titus first played in London sometime between 1584 and 1589, according to Ben Jonson. On January 19, 1585 – exactly thirty-nine years after the beheading of Surrey – Richard Enewes, aged 92 "or thereabouts" admitted to the queen's attorney general what he had done to Joan Jockey many long years ago:
…in the absence of the Earl, [John de Vere] the Lord Darcy and Lord Sheffield came to Earl's Colne, and this examinant [Enewes himself] & two more with him brake open the door where the same Joan was and spoiled her, and this examinant's fellow, John Smith, cut her nose, and thereupon after she was put away.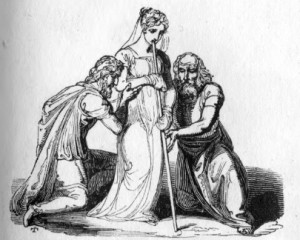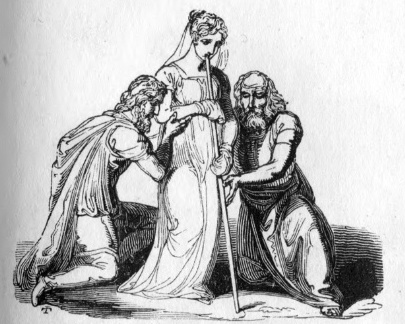 Joan Jockey was the village girl whom the 16th earl of Oxford had married at White Colne Church in the spring of 1546 or 47, after his first wife Dorothy had left him.  Curiously, her fate – an attack led by two men of the new nobility, both related by marriage to her husband – seems unnervingly close to what befell Shakespeare's Lavinia.
It appears that Earl John's reckless wedding was not well-received by Lord Darcy and Lord Sheffield, who were married to the earl's sisters Elizabeth and Anne, respectively.  While their motivations remain obscure, it does seem that these two lords were responsible for organizing the vicious attack on Joan.  "Spoiled her" most likely indicates that she was raped, since Enewes speaks of the cutting as a separate action.
Would Astraea, goddess of Justice, now punish Richard Enewes and his surviving fellows, for their hideous crime?
Not on this day.  At issue was a lawsuit initiated by Hugh Key against Richard Masterson, over a manor bequeathed to Margery Golding by her husband, John de Vere, as Nina Green explains in her summary of the case.  Apparently, Hugh Key sought to prove that Edward de Vere's birth was unlawful; unfortunately, his side of the story is missing from the records.  The testimony that we read in the surviving documents was offered "on the part & behalf of Richard Masterson gentleman, defendant against Hugh Key complainant."  The job of these five witnesses was to give evidence in support of Masterson, whose claim to any interest in the disputed property required that Edward de Vere be the legal heir of Earl John.  To a man, each swore that to the best of their knowledge, the birth of Edward, now earl of Oxford, was lawful.
But if any one of them had knowledge to the contrary, would they have dared to offer it?  Although she doesn't pose this question, Nina Green unintentionally implies as much when she observes:
Had the marriage been found to be illegitimate, it would have invalidated Oxford's right to the earldom and therefore the Queen's right to Oxford's wardship, and the Queen would have had to repay to those now found to be the legitimate heirs all the profits she had taken under Oxford's wardship from 1562 to 1585. It was perhaps for this reason that the Queen appointed her two highest-ranking legal officers, her Attorney-General, John Popham, and her Solicitor-General, Thomas Egerton, to conduct the examinations of the five witnesses. [emphasis added]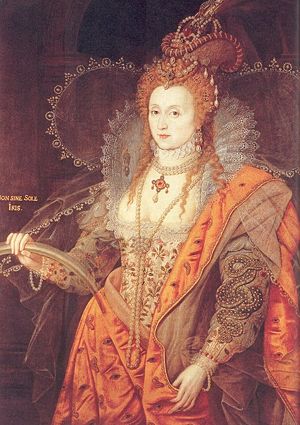 Certainly, on pecuniary grounds alone, it was not in the queen's self-interest to allow anyone to find that Oxford was a bastard. Yet even without this selfish motivation, Elizabeth's instincts would have been to protect Lord Burghley's son-in-law, as Walter Ralegh might have cunningly reminded her.  On May 12, 1583, he'd written to Burghley, trumpeting his success in coaxing the queen to drop her present inclination to re-open the Howard-Arundel affair:
I answered that being assured her Majesty would never permit anything to be prosecuted to the Earl's danger, if any such possibility were, and therefore it were to small purpose after so long absence, and so many disgraces, to call his honor, and name, again in question, whereby he might appear the less fit either for her favor or presence, in conclusion her Majesty confessed that she meant it only thereby to give the Earl warning… [emphasis added] (Monstrous Adversary, p. 290)
Consummate politician that he was, Ralegh used the queen's devotion to Burghley, and concern for the old man's health, as his trump card:
I delivered her your lordship's letter and what I said farther, how honorable, and profitable it were for [her] Majesty to have regard to your Lordship[s] health and quiet…
Thanks to the aggravated testimony of Charles Arundel, back in December of 1580, we know that Oxford had been bitterly stung by the queen's true opinion on his birth.  As Arundel remembers it, the earl had both complained and threatened revenge for her taunting comment: "That the Queen said he was a bastard, for which cause he would never love her, and leave her in the lurch one day. One mistress for love, another for the pound."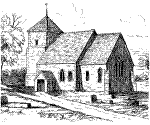 Knowing that her Majesty knew something about his doubtful legitimacy, Edward de Vere must have been just a tad anxious to learn what questions her Attorney-General Popham and Solicitor-General Egerton would put to the five men, and how they would reply.  Would the goddess of Justice bring to light dark truths that even he had never suspected about his father's irregular marriages?  Or would Elizabeth use the opportunity to once again "give the Earl warning", reminding him of how very much – including "his honor, and name" –  he owed to her good will?