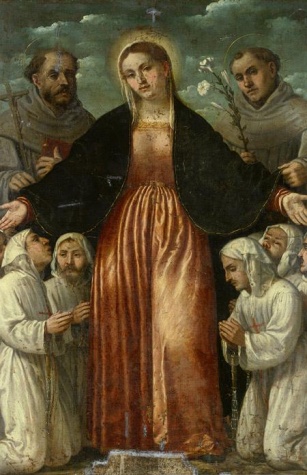 …Now I want
Spirits to enforce: Art to inchant,
And my ending is despaire,
Unlesse I be reliev'd by praier
Which pierces so, that it assaults
Mercy it selfe, and frees all faults.
As you from crimes would pardon'd be,
Let your indulgence set me free.

The quality of mercy has a trembling, "unmistakable" resonance in both the work of Shakespeare and in the Geneva Bible owned by Edward de Vere (as my colleague William Ray points out in his comments on "The Subtlest Maze of All").  What's more, Elizabeth's beheading of his cousin, Thomas Howard, 4th duke of Norfolk in 1572, just as Oxford was coming of age, must have scorched his psyche with the unbearable horror of mercy denied.
Nevertheless, when we exit the maze of The Tempest, floating on Prospero's astoundingly Catholic epilogue, with the words "mercy", "crimes" and "pardon" resounding in our ears, chances are that the artisan responsible for our euphoria was Ben Jonson.   In my view, Jonson trumps everyone as the best candidate for the epilogue's exercise in octosyllabic couplets, which he used to such touching effect in his elegy "On My First Daughter".  The evidence is, of course, circumstantial, but strong on both the biographical and literary fronts:
1.
THE EPILOGUE IS CATHOLIC:
For
twelve years
, beginning in 1598, Ben Jonson had been a practicing Catholic.  On Nov. 1, 1611, when the King's Men performed 'a play called
The Tempest',
Ben's abjuration of his adopted faith was still a recent, and no doubt painful divorce. Curiously, at the start of Prospero's life story to his daughter, he emphasizes this span of time twice
in one line: "
Twelve year
since (
Miranda
)
twelve year
since", this being the amount of time he's spent marooned on his enchanted island.
.
2. ITS VOCABULARY MATCHES JONSON'S:
Five key words in Prospero's epilogue –
fault, despair, mercy
,
crimes
and
pardon
– appear in Jonson's
Elegy 38, from Underwoods
, a poem which articulates the same essential themes we find in
The Tempest
, including the "menace of a storm" and the power "to forgive":
.
…Help, O you that may
Alone lend succours, and this fury stay.
Offended mistress, you are yet so fair,
As light breaks from you that affrights despair,
And fills my powers with persuading joy,
That you should be too noble to destroy.
There may some face or menace of a storm
Look forth, but cannot last in such a form.
If there be nothing worthy you can see
Of graces, or your mercy here in me,
Spare your own goodness yet; and be not great
In will and power, only to defeat.
God and the good know to forgive and save;
The ignorant and fools no pity have.
I will not stand to justify my fault,
Or lay th' excuse upon the vintner's vault;
Or in confessing of the crime be nice,
Or go about to countenance the vice,
By naming in what company 'twas in,
As I would urge authority for sin;
No, I will stand arraign'd and cast, to be
The subject of your grace in pardoning me,
And (styled your mercy's creature) will live more,
Your honour now, than your disgrace before…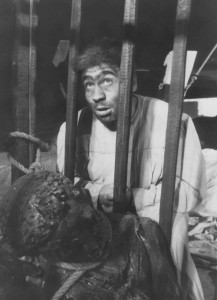 The link between "fault" and "crime" is a natural one, of course; Shakespeare has it here and there.  But in Jonson's case, it had a particular resonance, one that is absolutely vital to understanding why he participated in the "cover-up" of Edward de Vere's identity as "Shakespeare".  In 1602, he linked these two words in his postscript "To The Reader", when protesting against those unnamed individuals who took offense to his Poetaster:
"Nor was there in it any circumstance
Which, in the setting down, I could suspect
Might be perverted by an enemy's tongue;
Only it had the fault to be call'd mine;
That was the crime."
Can you imagine if the miraculous Tempest had suffered the "fault" to be called "Ben: Jonson's"?  Would anyone ever have perceived it as sublime?
3. JONSON ACTIVELY SOUGHT MERCY THAT WOULD SET HIM FREE: In 1605, while in prison due to the King's wrath over some objectionable matter in Eastward Ho!, Ben Jonson wrote letters which document this harrowing moment in his life, including a humble plea for the king's mercy:
"I speak not this with any spirit of contumacy, for I know there is no subject hath so safe an Innocence, but may rejoyce to stand justified in sight of his Soveraignes mercie.  To which we must humblie submytt our selves, our lives and fortunes".
In another letter written at this time, we find him still highly aggrieved by the supposed "faults" and "crimes" that others have found in his literary works:
"I beseech your most honorable lordship, suffer not other men's errors or faults past to be made my crimes; but let me be examined both by all my works past and this present…"
4. JONSON PIONEERED THE EPILOGUE-SPOKEN-IN-CHARACTER: As Stephen Orgel observes in his edition of The Tempest, "Prospero's epilogue is unique in the Shakespeare canon in that its speaker declares himself not an actor in a play but a character in a fiction."
Unique perhaps for Shakespeare's Tempest (pub. 1623), but not for Ben Jonson (as Orgel should know!), who has his "Fox" step forward to speak for himself, in character, at the end of Volpone (pub. 1606).  Again, in The Tempest's inverted twin, The Alchemist (pub. 1612), we find that Jonson has his linked pair of master and servant,  "Lovewit" and "Face", speak the epilogue in character.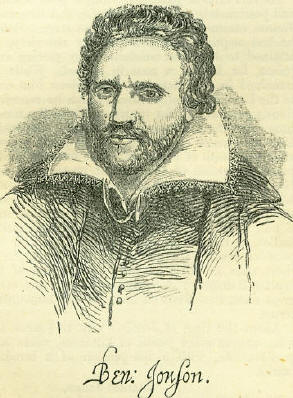 I've been asked many times, "Why would Ben Jonson write The Tempest and not claim credit for this masterpiece?"  In Chapter 30 of his dissertation, Roger Stritmatter reveals the "treasure hunt" aspect of The Tempest's place in the First Folio.  His insights highlight precisely what I believe Jonson had in mind:
I argue that the positioning of The Tempest as the opening movement in the folio substantiates these anti-Stratfordian speculations that the folio is not what it seems to be. If readers are "set off on a treasure hunt for the author" [emphasis added] by the folio's introductory matter, they discover a literary emblem of that author in the opening play — the exiled magistrate and magus Prospero. Placed here, as an "entry code" to the folio, The Tempest becomes an allegory of the intimate relation between life and art as seen through the "Oxfordian" interpretation of the canon. Placed here, the play foreshadows and legitimizes the deceit required by the Folio itself. The destruction of Prospero's book becomes the pretext for the action of the folio editors in hoaxing the literary public with the Droeshout engraving. This "sealing up," or "drowning" of the text enfolded it within a myth of authorship.
This sounds quite promising to me.  Not only is The Tempest a guide to the First Folio hoax, its author intentionally set out to create a literary labyrinth, one in which the properly initiated pilgrim may discover the truth of how and why Edward de Vere, 17th earl of Oxford became exiled from his dukedom.  But you won't read that story aright till you've entered the maze of the right Prospero – and his Minotaur.
~ Marie Merkel