Ten Premises

Ten Premises for a study of Edward de Vere's life:

1.) Our most compelling glimpse into the living person behind any poet or literary artisan is through his or her own words, filtered through the shrewd observances of contemporaries.
2.) Given the testimony of Gabriel Harvey (1579), William Webbe (1586), George Puttenham (1589), Francis Meres (1598) and Henry Peacham (1622), it is evident that "Edward Earle of Oxford" wrote poetry – including Latin works and drama – worthy of the highest praise.
3.) Since his few surviving poems (mostly lyrics) give only the barest hint of such promise, the earl must have written other works of high caliber – high enough for his contemporaries to rank him with Sidney, Ralegh and Gascoigne (in The Arte of English Poetrie, 1589), or with Chapman, Lyly, Nash and Shakespeare (in Palladis Tamia, 1598).
4.) The poetry and drama that earned these honorable mentions may have perished in manuscript.  Alternatively, the earl of Oxford's works (which certainly included comedies, interludes, and poems in English and Latin, and, speculatively, may include translations, dramatic collaborations, pamphlets, prose romance or jest-books and other entertainments) may have appeared in print anonymously, under a pseudonym, or under the name of another author.
5.) A complete survey of potential attributions of anonymous work, or deliberate misattributions under invented or borrowed names, should begin with possible juvenilia (from 1562 onward), read with an ear for the thematic and stylistic roots of Edward Oxenford's earliest signed poems and prose.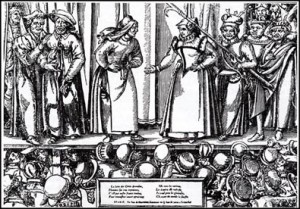 6.) Edward de Vere's literary milieu – those writers and scholars with whom he studied, or with whom he could claim kinship or acquaintance, as well as those whom he employed or patronized, befriended, offended or inspired – sometimes to mockery – includes*:
Henry Howard, poet earl of Surrey
Thomas Sackville, Lord Buckhurst
Mary Sidney, Countess of Pembroke
William Stanley, 6th earl of Derby
* all links lead to Alan Nelson's documentary biography, Montrous Adversary
7.) A study of the works and/or biographies of these writers would be an excellent introduction to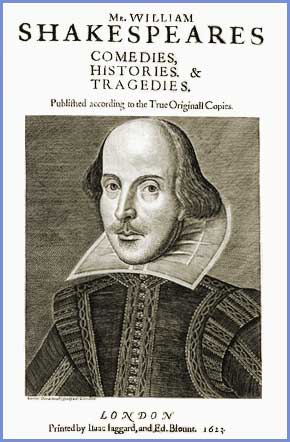 Mr. William Shakespeare's Comedies, Histories & Tragedies.
 8.) Discovery of what his biographer Alan Nelson calls "the real Oxford" ultimately depends on a non-partisan survey of the documents that make up his biography, combined with a judicious analysis of the alleged literary allusions to the earl, with both strands of inquiry viewed through the broader context of the Elizabethan political and literary world.
9.) At the close of the Tudor era, Shakespeare and his fellow playwrights were well-placed to observe and comment upon the literary Lord Great Chamberlain's flamboyant life and the ruin of his family's ancient estate.  As the nineties progressed, the earl's influence waned, his body weakened and his purse shrunk, yet tales of his former liberality to poets and scholars still remained fresh.  For those with the wit to camouflage a dramatic parallel, Edward de Vere's follies and obsessions would have created a perfect storm of tragicomedy, capable of flooding the London stages with eloquent prodigals and vengeful cuckolds through many a dry season.  Therefore, topical references to the earl are probable.  Yet given the earl's creed of malice and revenge, we should expect any such reference to be couched in highly obscure, ambiguous or cryptic terms.
10.)  Shakespeare had that wit in spades.  Ben Jonson too.