Shakespeare & The Howards
Shakespeare & The Howards:
A New Reading of Titus Andronicus
by Marie Merkel
…most commentators assume that Shakespeare was in full possession of his genius when he wrote Titus Andronicus and was consequently doing something subtle. Accordingly, it is for us to study the play and work out what that is.     ~Alan Hughes, The New Cambridge Shakespeare: Titus Andronicus, 1994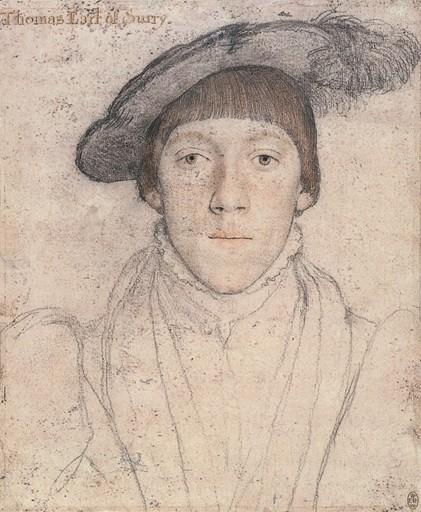 Did William Shakespeare have Catholic sympathies?  His merciless lampooning of the Protestant martyr, Sir John Oldcastle, in the character of Falstaff (see Shakespeare's Typological Satire by Alice Lyle Scoufos), suggests a personal disaffection from the mainstream religious settlement.  For John Klause, (Shakespeare, the Earl and the Jesuit), Shakespeare's acute awareness of the Catholic martyr and poet Robert Southwell turns up in Alls Well that Ends Well and Measure for Measure.  These "reminiscences" are "both nostalgic and forward-looking about the religious and political issues that Southwell had long ago raised," issues that "in radically changed circumstances, seemed as significant as ever" to the playwright.   Frank Brownlow finds in King Lear a "portrayal of illegitimate power" that "when juxtaposed to the activities of Richard Topcliffe and the government he served so assiduously" seem "remarkably true to the real conditions of life for Elizabeth's Catholic subjects."
With men like Topcliffe in charge of hunting down and torturing priests, Shakespeare would have needed an exceedingly subtle means to express any sympathy for Catholic martyrs, or distaste for the state's methods.  If his sympathies were more personal in nature, and attached to particular courtiers and/or noble families whom the queen and her privy council had reason to frown upon, his dramatic portrayal of these outcasts would need to be "too clever by half".
With an "alphabet" of seven simple but very clever dramatic techniques, Shakespeare seems to have fought back against the Elizabethan authority that would tie his tongue.  Shakespeare and the Howards presents a close historiographical reading of Titus Andronicus, revealing the author's strong affinity for the Catholic Howard family, especially Henry Howard, the poet earl of Surrey (executed in 1547), and his eldest son, Thomas Howard, 4th duke of Norfolk (executed in 1572) who had foolishly allowed Robert Dudley, the queen's favorite, to tempt him into conspiring to marry the Catholic claimant to England's throne, Mary Queen of Scots.
~Table of Contents~
I.  
Henry VII & Henry VIII   1484 ~ 1547
Chapter 1: "A Nobler Man, A Braver Warrior"
1513: The Battle of Flodden. The septuagenarian Thomas Howard I, earl of Surrey, defeats the Scots and earns the gratitude of the young King Henry VIII. The noblest of the Scots, King James IV, slain in the battle; Surrey at a loss as to how to respectfully dispose of his corpse.
Chapter 2: "Nor Wrong Mine Age with this Indignitie"
1484: The Battle of Bosworth, briefly, with Henry Tudor crowned King of England. 1509: Ascension of young Henry VIII, aged sixteen. 1547: Ascension of young Edward VI. Power struggles between the nobility (in particular, the Howards) and the "new men" at both times.
Chapter 3: "O Sacred Receptacle of my Joyes"
1524: Grand Funeral for Thomas Howard I, 2nd duke of Norfolk; Thomas Howard II becomes 3rd duke of Norfolk. 1532-3 Marriage alliances forged: the king's bastard son weds Norfolk's daughter Mary; Norfolk's eldest son and heir, Henry Howard, weds Frances de Vere.
Chapter 4: "Romes Royall Mistris, Mistris of My Hart"
1517: Evil May Day Riots quelled with Howard assistance; 1522: Anne Boleyn returns from France and enters a "pre-contract" to marry with Henry Percy. 1527-33: Henry VIII's six-year courtship with Anne. 1534: Religious sacrifice of Carthusian Monks; 1536: Anne miscarries a boy.
Chapter 5: "She Will a Handmaide be to His Desires"
1536: Henry VIII looks to the 1522 "pre-contract" as a legitimate reason to divorce Anne Boleyn; Anne arrested on charges of adultery with five men, causing much "surprise" at court; May 19, 1536: Anne Boleyn beheaded; Henry hurries to wed Jane Seymour.
Chapter 6: "A Valiant Sonne in Law Thou Shalt Injoy"
8 June 1536: Parliament opens; Margaret Douglas elopes with Lord Thomas Howard; Henry VIII orders both arrested; 8 July: Henry's bastard son, Henry Fitzroy, reported sick; July 18: final day of Parliament, Lord Thomas attainted; July 23: Henry Fitzroy, duke of Richmond, dies.
Chapter 7: "Kneele in the Street and Begge for Grace in Vaine"
May 1536: Anne Boleyn escorted to the Tower by her uncle, Thomas Howard, 3rd duke of Norfolk; June 1536: Jane Seymour adopts the role of peacemaker; July 3: Norfolk helps arrange a triple wedding, uniting the Neville, Manners, and de Vere families; Henry VIII brings a banquet.
Chapter 8: "My Hart Suspects More Than Mine Eie Can See"
Summer 1536: The unquiet spirits of Anne and George Boleyn, joined by Henry Fitzroy; Henry Howard mourns the loss of his friend; Henry VIII forbids mourning or a proper burial for his bastard son; Norfolk granted the right to inter his son-in-law's body in the Howard family tomb.
Chapter 9: "Kisse His Foot, Then Deliver Up Your Pidgeons"
September, 1536: "Pilgrimage of Grace" begins; Oct: Norfolk ordered to suppress this rebellion, but to leave his son at court, as hostage; January 1537: Norfolk arranges a safe-conduct for Robert Aske, leader of the rebels, to deliver his petitions to Henry VIII; Aske hung in chains.
Chapter 10: "What is Lavinia then become so loose"
1540: Henry VIII weds Catherine Howard, Norfolk's young and vivacious niece; 1541: Francis Dereham and Thomas Culpepper in competition for the queen's favors; June 1541: Lord Dacre and John Mantell executed for killing a gameskeeper; Henry discovers Catherine's love affairs.
Chapter 11: "Oh That Delightfull Engine of Her Thoughts"
February 1543: Catherine condemned by Parliament, for adultery; Norfolk writes cringing letter to the king; Margaret Douglas once again falls in love with a Howard, incurring the deep wrath of her uncle, Henry VIII; Norfolk reportedly laughs, "Ha, ha, ha," at the trial of his niece.
Chapter 12: "I Will be Bright and Shine in Pearle and Golde"
January 1543: Thomas Seymour returns to England and begins courting Kateryn Parr; February: Henry VIII pays a tailor to make Italian dresses for Kateryn; 12 July 1543: Henry VIII weds Kateryn Parr; 1547: Henry dies; Seymour weds the dowager queen.
Chapter 13: "And Whilst the Babling Eccho Mocks the Hounds"
1543-46: Henry Howard writes a disturbing poem satirizing and threatening Edward Seymour's wife, and another lamenting the loss of his friend Henry Fitzroy, duke of Richmond. He commissions a painting that infuriates Henry VIII, and spoils the marriage plans of his sister.
Chapter 14: "See How with Signs and Tokens She Can Scrowl"
1543: Henry Howard, earl of Surrey, lands in the Fleet prison for shooting stone-bows late at night in the London streets; he pens a satiric poem asking for redress from heaven; summer 1546: Surrey writes an angry letter to John Dudley; 2 Dec 1546: Surrey arrested; on charges of sedition.
Chapter 15: "Good Aron Wilt Thou Helpe to Chop it Off?"
1546: Thomas Howard II, 3rd duke of Norfolk, arrested shortly after his son. Both men write letters to the king, with no response. 12 January 1547: Norfolk induced to subscribe "with my own hand" to a false confession of treason; 19 January: Henry Howard, earl of Surrey, beheaded.
Chapter 16: "Farewell proud Rome till Lucius come againe"
1547: Frances de Vere, countess of Surrey, pregnant at the time of her husband's execution; 27 January 1547: Norfolk's case receives "the royal assent by commission", clearing the way for his execution on the morrow; during the night, Henry VIII dies; Norfolk remains in prison till 1553.
II
Edward VI & Mary I: 1547 ~ 1558
Prologue
Chapter 17: "O What a Sympathy of Woe is This"
Chapter 18: "(O Had We Never, Never Hunted There.)"
Chapter 19: "But if You Hunt these Bearwhelpes Then Beware"
Chapter 20: "Shee is Delivered Lords She is Delivered."
Chapter 21: "Tell the Empresse from Mee I am of Age"
Chapter 22: "I, Like a Blacke Dog, As the Saying Is"
Chapter 23: "Oh Sweete Revenge, Now Doe I Come to Thee"
Chapter 24: "Die, Die, Lavinia, and Thy Shame With Thee"
III
Elizabeth I: 1557 ~ 1603
Prologue
Chapter 25: "To This Your Sonne is Markt, and Die he Must"
Chapter 26: "Poor I Was Slain When Bassianus Died"
Chapter 27: "How Easily is Murder Discouvered"
Chapter 28: "Truly, I Would the Gods Hadde Made Thee Poeticall"
Chapter 29: "My Teares Will Choacke Me if I Ope My Mouth"
Epilogue: "As If We Should Forget We Had No Hands"
Afterword
Bibliography
Appendix A: "The History of Titus Andronicus"
Appendix B: The Flodden Duke's Epitaph