At a conference in 2004, a colleague asked me how I envisioned the paradigm shift that would bring Edward de Vere in from the cold.  The first image that came to mind was the Berlin Wall: all my life, it was there, until suddenly one day it wasn't.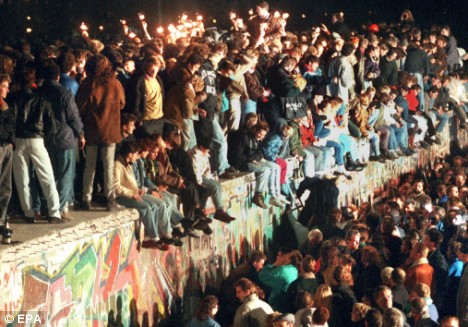 For ninety years, the best and brightest of Shakespearean scholars have maintained a collective taboo against discussing the earl of Oxford.  This year, the torch will pass to those who can top James Shapiro's evasive response to the youngster who asked him "Is that true?"
Here's the real question they'll need to answer: "Is it true that all of Shakespeare's plays in some way mirror events in Edward de Vere's life, with uncanny political, psychological and emotional depth?"  Who can we trust to give us an honest, informed and verifiable answer? The myth of authority dissolved with Shapiro's admission that the topic of Oxford-as-Shakespeare has been and remains verboten within the academic community.  Only those with the courage to break the taboo will have the database necessary to evaluate the extent of Oxford's presence, not only in Shakespeare's psyche, but as a prime mover of the Elizabethan literary scene.
Will 2011, the ninety-first year of underground Oxfordian studies, begin the decade in which the academy slowly awakens from its fearful slumbers to face the ever-living, exuberantly wrathful, inebriated and melancholy spirit of Edward de Vere, 17th earl of Oxford, as preserved in Shakespeare's cathartic dramas?  I sincerely hope so; those on the outside have no idea what thrills of discovery they are missing. Time and again, when historic documents are knowingly aligned with Elizabethan literary effusions, the resulting sparks clearly show that these writers – and many others – were preternaturally aware of Edward Oxenford's disruptive presence.
Sometimes even the tiniest scrap of new evidence can send off fireworks.  To usher in the New Year with a spirit of adventure and possibility, I'd like to share a little something that I stumbled on the other night while reading the pleasantly soporific Place, Profit, and Power: a Study of the Servants of William Cecil, Elizabethan Statesman by Richard C. Barnett, (University of North Carolina Press, 1969).  What caught my eye and cost me several hours of good sleep was the name of one of Burghley's servants: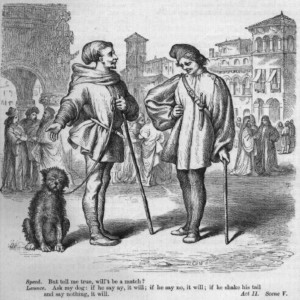 THOMAS SPEED, ALIAS LEWKENOR
Unfortunately, Barnett wasn't able to discover much about Master Speed:
"Here is a servant for whom there is scarcely any evidence beyond his reward to tell us how he served Burghley or even why he changed his name.  We know that he was a servant by August 14, 1577…  We also know that Speed was available for household duty on two extraordinary occasions in 1581.  When Burghley entertained the French commissioners on April 30, 1581, Speed shared charge of the plate house with one other.  He was again present when in October the Queen visited Theobalds, though his duty station, on this occasion, is not given." (p. 135)
To my knowledge, no one has yet considered this servant in relation to Oxford-as-Shakespeare.  Perhaps we should: both names – "Speed" and the author Lewkenor – have no small relevance to Shakespeare's work, and the time-span in which Thomas Speed was most visibly in Burghley's employ contains some of the most emotionally wrenching months in Oxford's life.
Just imagine the excitement, and the questions that would arise if scholars were to turn up a record of a servant named "Thomas Speed" in the employ of John Shakspere of Stratford-on-Avon.  The first thing we'd want to do, no doubt, would be to re-read all the lines for the character "Speed", one of the servants in Two Gentlemen of Verona.  After re-reading the play as well, we'd begin the literary and biographical inquiry:
How does this little tidbit add background color to the servants of Shakespeare's painfully clumsy comedy?  Had his father's servant done something to irritate him?  Impossible to know, of course, yet it does seem as if the author has a bone to pick with Servant Speed, some unresolved matter that keeps bubbling over into unguarded spite. Like most characters in this play, Speed is a bit of a chameleon, but at his first entrance, he's clearly a dunce.  Proteus taunts him for being "a sheep who for fodder follow[s] the shepherd", and concludes the scene by branding Speed as "a worthless post" or messenger (I.i. 92; 161).  Shakespeare even has Speed's fellow-servant Launce shoot off this poisonous parting shot:
Now will he be swinged for reading my letter; an unmannerly slave, that will thrust himself into secrets! I'll after, to rejoice in the boy's correction.
Though we know more about William Shakespeare than any other Elizabethan writer – or so his academic apologists assure us – there's nothing in his documentary life to give us any traction with a hypothetical servant named "Speed".  Now let's see what happens when we posit Edward Oxenford as Shakespeare.
Since the existing evidence (or such as I've been able to discover in the last 48 hours) shows no direct contact between the earl and Thomas Speed alias Lewkenor, all guesses on the coincidence of servant names must remain flexible until more information comes to light.  In the meantime, what we do have here is the gift of a likely time-frame for when the name "Speed" for a servant would have caught the author's fancy – the winter and spring of 1581.  As it happens, the word "speed" was used in a most intriguing manner by Charles Arundel, when he testified on the Friday before Christmas, 1580, to what he believed was the root cause of his friend's betrayal:
Now the truth is, that this noble count, finding himself forsaken for his horrible enormities rather to be buried in the dunghill of forgetfulness than reported by any modest tongue, obtained my Lord of Leicester's favor by the mediation of his man Milles, upon condition that he should speed us three, [i.e., Howard, Arundel and Southwell] and thus the bargain was concluded. (pg. 251, Monstrous Adversary)
In other words, Leicester would help Oxford if he would agree to speed or facilitate the doom of his three friends.
Whatever the deficit in our information concerning Oxford vis-a-vis Burghley's man, Thomas Speed, we're back in the black with the earl's long-time servant Arthur Milles.  From the information provided in Alan Nelson's biography (not only in the passage quoted above, but also here on pp. 268-9 and here again on pp. 402-3), we find Oxford with some good (as well as fickle-headed) reasons to consider Milles an "unmannerly slave", and for much the same reason as Launce had condemned Speed.  From an obscure letter written by Charles Arundel (who was still under confinement due to his former friend's "monsterous dealinge"), it appears that Milles had violated Oxford's trust as a messenger:
Milles hath reported that there is a great person who, not seeming to have any conference with the villain his master since his flight, [i.e., Oxford, who had attempted to flee the country after Anne Vavasour gave birth to his son] taketh a certain message from his mouth pretended to be sent him from the villain at his going out, to this intent: that her Majesty should not so far show herself with choler for this fact.
I won't pretend to understand just what Arundel is attempting to convey here, but even without sorting out the "who's who" of this passage, clearly, the writer had gained access to privileged information about Oxford's affairs through Arthur Milles.  And as you'll see on pages 402-3 of Monstrous Adversary, Oxford and Milles also had a messy falling out late in 1601 or early 1602, when "my lady of Oxford" found that a casket of hers went missing, and sought to pin the blame on her husband's old servant, as Milles complains in a memorandum to Robert Cecil:
Yet my Lady's malice did not cease there, but some 5 days after that, I was accused for the same upon these three several points: first, that I was twice that day with the Lord of Oxford; Secondly, that I did not stay that day with him so long as I was wont to do; and the third accusation was, that I came that day by his door with my Cloak cast over my shoulders…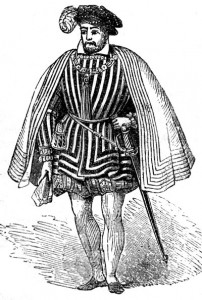 If you recall, in Act III, scene i – one of the clumsiest scenes in The Two Gentlemen of Verona, and perhaps all of Shakespeare – a cloak becomes a major prop.  Shakespeare has the Duke corner the fleeing Valentine, who excuses his haste thus: "Please it your Grace, there is a messenger/that stays to bear my letters to my friends/and I am going to deliver them."  "Be they of much import?" asks the Duke.  Valentine assures him,  "The tenor of them doth but signify/My health and happy being at your Court" (ll. 52-7).
Here we have a rough paraphrase of the message that Milles reported to Arundel in 1581, which concerned the future of Oxford's "health and happy stay" at Elizabeth's court, at the time in which he had attempted to flee the country.  Curiously, much of the story in Two Gents revolves around haste to catch the tide, sorrow at parting, betrayal and banishment from court – a fantastical mirror image of Oxford's life in the winter of 1581.   Six repetitions of the word "cloak" suggest an author overly anxious to convey his winks and nods.  They also serve to impeach Valentine as a most ridiculous fool, contrary to the health and well-being of Shakespeare's ostensible romance:
VAL: It will be light, my lord, that you may bear it/under a cloak of any length.
DUKE: A cloak as long as thine will serve the turn?
VAL: Aye, my good lord.
DUKE: Then let me see thy cloak./I'll get me one of such another length.
VAL: Why, any cloak will serve the turn, my lord.
DUKE: How shall I fashion me to wear a cloak?/I pray thee, let me feel thy cloak upon me.
If this play had come down to us with Edward Oxenford's name on the title page, it seems to me that Milles the unmannerly messenger, with that casket allegedly hidden under his cloak, would have been pegged long ago as the inspiration for these intrusive and highly personal scenes.  One aspect of Milles' service is masked under the red-herring name of "Speed"; his alleged theft using a cloak comes through loud and clear in Valentine's fumbled attempt to abduct his forbidden love.
Something may eventually turn up that shows Thomas Speed actually crossing Oxford's path.  Given the part of  "Speed" in the "Imprimis/Item" scenes of Two Gents, my guess is that he may have been present on the January day of 1581, when Oxford wrote down his "Imprimis/Item" interrogatories for Howard, Arundel and Southwell.  Whether as recorder, secretary, or simply a personal messenger for those in charge, Speed's hypothetical presence on the fringes of the investigation into an alleged Papist conspiracy, accords with his sober service to Burghley, and the "passionate" and "unmistakably Protestant" tone that Barnett observes in his will. (Place, Profit, p. 136)  But as the careful reader will have already noted, I've now crossed the line into indulgent, effervescent speculation.
Happy New Year, my friends!