Ben Jonson & 'The Tempest'
I've been away from "my desk" for more than two years, but may have time this fall (2013) to begin sharing more of my research on Ben Jonson and The Tempest.  Coming soon: updated lists of unique words, phrases (including stage directions) and rhymes from The Tempest  that were used by Jonson, but never used elsewhere by Shakespeare.  Please check back now and then, or, if you're truly curious, give me a nudge to help motivate the process!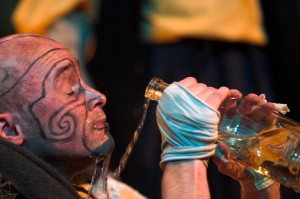 Be not afeard; the isle is full of noises,
Sounds and sweet airs, that give delight and hurt not.
Sometimes a thousand twangling instruments
Will hum about mine ears, and sometime voices
That if I then had waked after long sleep
Will make me sleep again; and then, in dreaming, 
The clouds methought would open and show riches

Ready to drop upon me that, when I waked,
I cried to dream again.